HISTORY OF THE NOVENA OF GRACE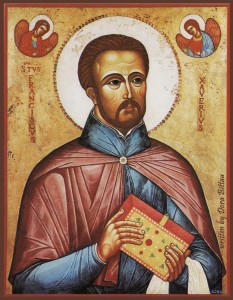 The Novena of Grace began in 1633 when St. Francis Xavier appeared in a vision to Fr. Marcello Mastrilli, SJ. Fr. Mastrilli was awaiting his passage to Japan as a missionary when he was gravely injured with head trauma. St. Francis appeared to him and said:
"All those who implore my help daily for nine consecutive days, from the fourth to the twelfth of March inclusive, and worthily receive the Sacraments of Penance and Holy Communion on one of the nine days, will experience my protection and may hope with entire assurance to obtain from God any Grace they ask that is for the good of their souls and the glory of God."
When Francis vanished, Fr. Mastrilli was completely cured. He went on to spread this devotion until he suffered a brutal martyrdom in Japan.
The Novena of Grace is still prayed today throughout the world. In the Oregon Province of the Society of Jesus, the Novena of Grace is prayed at:

THE FIERY ST. FRANCIS XAVIER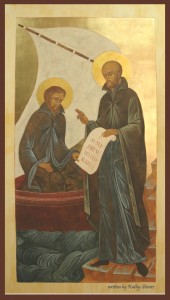 St. Francis Xavier is generally acknowledged as the greatest missionary of the Catholic Church. He was sent forth by St. Ignatius of Loyola, the founder of the Jesuits, to set all afire in 1541. For the next eleven years Francis traveled to India, Malaysia, Indonesia, and finally Japan under harrowing conditions. During his travels, he sought out the poor and sick, ministered to their needs, taught the faith, and spent much of his nights in prayer. He worked tirelessly against the immorality, greed and violence of European Imperialism, which undermined the credibility of Christianity. St. Francis Xavier inspires us with his courage to go freely wherever the call of Jesus beckoned.

HISTORY OF THE NOVENA
AT ST. IGNATIUS PARISH IN PORTLAND, OR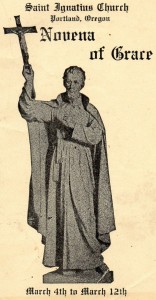 It was a commonly understood here at St. Ignatius Parish that we have prayed the Novena of Grace as a community for the last 77 years. However, last year a parishioner discovered a Novena prayer booklet dated 1921! We have included a scanned copy for your perusal (my, how times have changed). This, then, will be our 92nd year of praying the Novena of Grace. We pray for many more years to come!
Download a PDF of the booklet below. It is a large file so give it some time to download. Enjoy!
ABOUT  |  PRESENTERS  |  DETAILS  |  SUPPORT